I may be alone in this-but I long for the days when this is what air travel looked like:
And not this:
It would be hypocritical for me to suggest that you need to dress in a suit and heels to fly because, lets face it, times have changed and that is just not practical. Now that does not mean that one has to look like the just came from rugby practice.
Here is my suggestion for a good trans-Atlantic crossing outfit that does not look like you are going to a cocktail party or yoga.
The keys for this look are ease, comfort, and style:
First-say it with me
Jersey Wrap Dress
.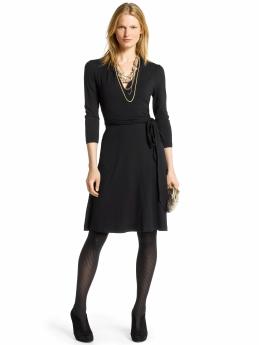 This should be in a dark color because it is forgiving- both because it will be hard to notice if you spill something and two it will hide anything you need hidden.
Next-a wrap/large scarf. Because do you really want to use the airplane blanket?
No
.
Pick a bright color that you like. It will give your outfit some pop and keep you warm of an arctic airplane.
Shoes- your itinerary will dictate how many airports you need to hike through but no matter what remember flats are your friend. You will have to take your shoes of at security and those caged heels that take you ten minutes to get on and off won't earn you any friends at TSA.
This is another chance to have fun with your basic black dress. No need to match to scarf but pick a fun pair of flats.
Keep jewelry limited. Especially if you have a long flight a head of you. Those chandelier earrings may rock now but in 10 hours you will not be happy.
A simple necklaces and a watch will do.
And last but not least-the bag.
My favorite topic.
With rules limiting you to two carry-on's the best way to get around it is have a bag within a bag. You need your computer, cell, book, ipod, wallet, magazine, makeup case, glasses case, sunglasses case- the list goes on. But you really do not need any of that from the point you are dropped off 'till you check in.
Keep the necessities, passport, secondary ID, a credit card, some cash and your ticket in a clutch that you can grab easily.
Here is the big bag.
And here is the clutch.
I love this clutch more than anything else.
Try not to draw TOO much attention to yourself- flashy jewelry, clothing, or accesories. Otherwise you will be a target for thieves at the airport.
I may have a little over a week left until I leave and a bag to pack but I am already thinking about what to wear on the plane. What do you wear to fly?